Music Production & Song Writing 16 - 19




FREE 10 week music production courses - MC & singer - Studio engineering - Music production - Lyric writing.





Courses across Derby – Nottingham – Ripley – Chesterfield – Ilkeston
Are you interested in making beats, writing lyrics and recording music? Then this course is for you!

Baby People and Acorn Academy present their leading music studio course. We are recruiting learners aged 16-19 years old to join our new studio courses starting from Monday 9th March onwards.
Join this 10-week Music Studio course (level 1 and 2) and you will gain hands on experience in music making, creating beats, writing lyrics and recording music.
You will learn from artists with industry experience and gain qualifications and skills in music technology, develop realistic employment opportunities in the music industry or progression in to Further and Higher Education.
All travel costs covered!
Recommend a friend and you could get a £25 iTunes voucher

For more information:
Or call 01773 747 377
---

Baby People are a professional music production company and training provider. Their flagship music production and lyric writing workshops teach basic beginner to professional level skills. Their 10 week course run in conjunction with The Acorn Academy, covers all aspects of music production and studio engineering.

Their lyric writing workshops cover MCing and rapping and offer a route into literacy for young people like you who may not normally enjoy literacy.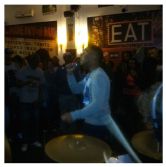 Online dictionaries and thesaurus on their music studio computers are amongst the most visited sites by young people and their lyric and song writing workshops offer you the opportunity to express yourself and creatively explore issues and topics relating to you and your life.

Their tutors are experienced song writers, rappers and poets who have performed nationally and released their work to the public for over a decade.

Through using a more creative and artistic approach to writing, Baby People find that many people who have previously found literacy challenging, invariably flourish and enjoy the freedom of expression associated with writing songs and lyrics.

For more information about their programme, please contact us here or call 01773 747 377 or to find out more about our partners Baby People, please visit their website here.