A Babington Group Company
Acorn Training Consultants are part of the Babington Group, founded in 1974 Babington provides high quality training across a growing range of sectors.
At Babington, our mission statement is "to inspire everyone to realise their full potential by providing training and opportunities to improve quality of life, and thereby create a better future."
Some of our recent achievements are:
Ofsted Grade 2, with 'outstanding' features for teaching in accounting and financial services
Success rates above the national average
Best Companies 'Ones to Watch' 2015 accreditation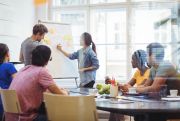 At the heart of achieving excellence is our 'Big Push', seven values that are intrinsic to the way we work.
These are:
Boundary pushing: mediocrity is not an option, and we will raise the bar in all we do
Inspiration for every learner and Babington employee to reach their potential to be the best
Growth of our business, skills and abilities
Passion for people, lifelong learning and performance
Understanding of our people and your business is what makes the difference
Success for all is our mission
Highest quality throughout every interaction and all we do
---
We work with young people across England to increase employability through personalised training and skills development. Through our traineeships and study programmes, we have helped numerous individuals, many from disadvantaged backgrounds, to reach their full potential through new and exciting opportunities.

At school there was a big push for A level students to progress to university, but I felt that I was ready to step into the world of work. The apprenticeship programme was a fantastic opportunity to carry on studying whilst gaining valuable work experience.
Hannah Westgate - Babington Apprentice